| | |
| --- | --- |
| We invite to the Baltic International Academy Design School «Environmental Design», «Digital Visualization Design» programm qualification papers and diploma defense digiviz complete2017_2 less is more = true design 20.06.2017. from 10:00 to 16:30, Central campus in Riga, Lomonosova Street 4, 212 aud. | |





Welcome to the Russian Language Courses!
June 26th – July 7th. General Russian for Beginners and Beginners+ A1-A2
July 10th–July 21th. General Russian (Pre-Intermediate and Intermediate) A2 –B1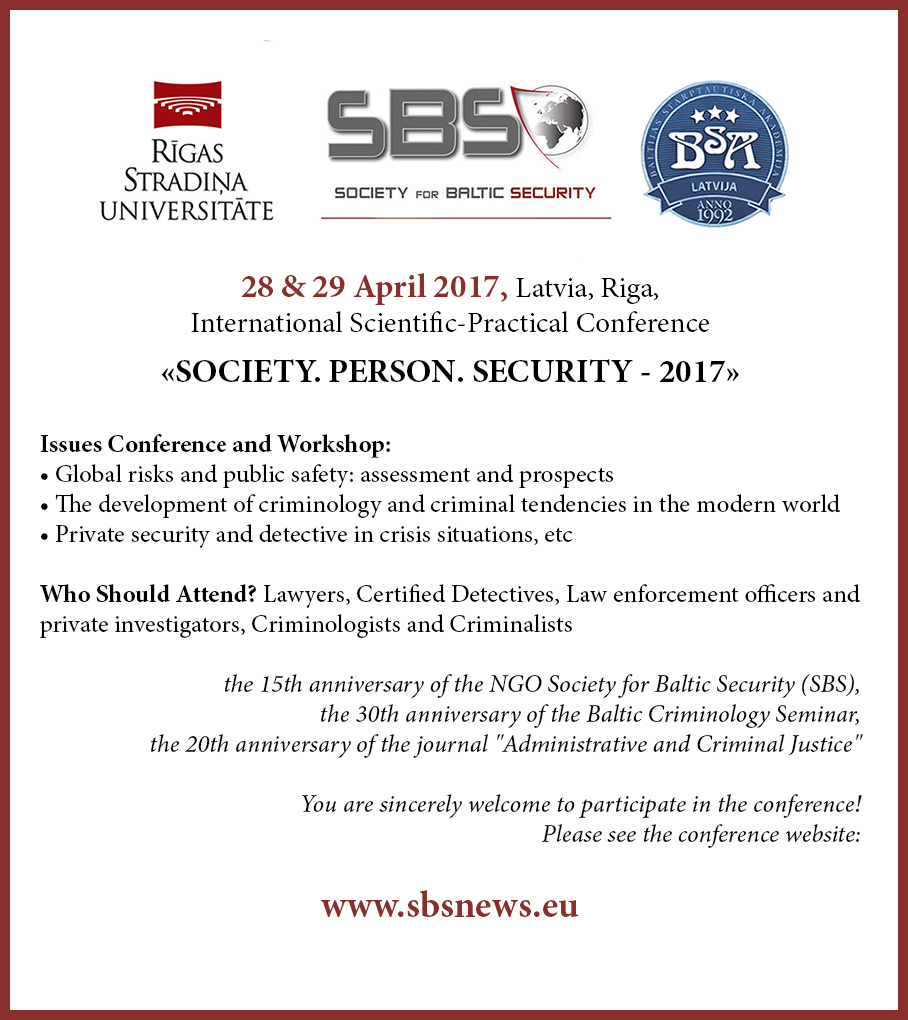 This is to remind, that March 20th, 2017, is the deadline to apply for the annual Russian Summer School on Institutional Analysis "The EU Practices for Young Researchers: Studying Economics of Institutional Development" (RSSIA 2017), organized by the Center for Institutional Studies, National Research University Higher School of Economics (Moscow, Russia), RSSIA will take place in the suburbs of Moscow from July 1, till July 7, 2017. The working language of the Summer School is English.

We welcome researchers, faculty, PhD and Master students. Priority in the selection will be given to research projects that are related to the following fields:
Economics of public sector, bureaucracy, and procurement
Economics of education
Banks and financial markets
Industrial organization, government regulation, and law enforcement
Property rights, institutions and economic development

RSSIA gives the opportunity to attend lectures of distinguished scholars, to present your own research and to receive the feedback from other participants and faculty. The possibility of communication and discussion is the main focus of RSSIA. This year the following faculty members have already agreed to participate in RSSIA: John Nye (George Mason University and HSE), Koen Schoors (Ghent University), Paola Valbonesi (Bocconi University and HSE), Peter James Bentley (University of Melbourne), Christian Brownlees (Universitat Pompeu Fabra), Maria Yudkevich (HSE).
The applications are to be submitted online at http://rssia.hse.ru. An application includes a registration form, a motivation letter (max 300 words) and description of current research (max 1500 words) with a short abstract (max 200 words).
Please find attached the call for papers with all the information on deadlines and requirements.
RSSIA 2017 is organized with the support of the Erasmus+ Programme of the European Union.
The Yegor Gaidar Foundation, RSSIA second partner, will provide several travel grants covering the ticket costs for the participants living in Russia but outside Moscow. The information on the grants can be found at http://rssia.hse.ru after March 7th.




---

Dear students and teachers of the Baltic International Academy!
We invite you to an open lecture by Professor Michał Rojewski from Poland (State College of Applied Sciences in Skierniewice - Państwowa Wyższa Szkoła Zawodowa w Skierniewicach) on the topic: European Union legal problems of foreigners from the Middle East.
The lecture will be held on Thursday, March 9 at 14.40 in the auditorium 303 on the Lomonosova street, 1
Everyone is welcome!
Administration

---

Dear Colleagues,
It is our honour to invite you to the conference "Multidimensional Translation: from Science to Art" held on April 20-22, 2017 (Baltic International Academy, Riga, Latvia).




---

We invite to the Baltic International Academy Design School
«Environmental Design», «Digital Visualization Design» and Ma «Design» program
qualification papers and diploma defense
digiviz complete2016_1
less is more = true design
19.01.2017. from 11:00. to 14:00,
Central campus in Riga, Lomonosova Street 4, 212 aud.




---
| | |
| --- | --- |
| Merry Christmas and a Happy New Year! | |
II International Scientific and Practical Conference "Multidimensional Translation: From Science to Arts", 20-22 April, 2017, Riga, Latvia