XXV International scientific and practical conference Society. Person. Security. 2018
Riga, Latvia, 27-28 April, 2018
---

The launch of our summer 2018 programs has so far been a runaway success – we have received a record number of applications since opening admissions in early November.
We will consequently be closing admissions to at least three of 18 cities much earlier than anticipated –the Sydney, Hong Kong, and Chicago programs will be full and closed to new applicants within the next two weeks.
For the moment, interested students may apply to all cities for summer 2018 via www.city-internships.com/apply/.

Program summary

All CI programs feature a series of career-readiness classes, workshops and events centered around an internship placement at a leading company.
All programs are open to students from any year, with any major. Students may choose to join a program in one of 18 cities, with a placement in one of 9 career fields.
18 Destinations: New York, Washington D.C., Boston, Chicago (closing soon), Miami, San Diego, Los Angeles, San Francisco, London, Paris, Madrid, Barcelona, Florence, Rome, Zurich, Sydney (closing soon), Hong Kong (closing soon), Buenos Aires.
9 Career fields: Banking & Financial services; Consulting & Professional services; Law & Politics; Technology & Engineering; Marketing, Advertising & PR; Entertainment, Media & Journalism; Art, Design & Fashion; Start-ups & Entrepreneurship; Charities, NFPs & NGOs.

New website resources – How it works
With thanks to a number of our colleagues in academia for their valuable feedback, I am pleased to share the brand-new 'how it works' section on the CI website, which provides a guide to key process, features and financial information.
As well as being a good resource for students exploring CI, the material is useful to any student contemplating a summer or semester living, studying and working abroad. www.city-internships.com/how-it-works/

2017 Q4 Scholarship – Ending soon
The 2017 Q4 scholarship contest invites students to enter a draw to win two fully-funded places, one for themselves and one for a friend, on a Global Explorer Program in a city of their choosing this summer.
The CI Instagram page is a great resource to help students visualize a summer with CI. To enter the draw, students need only follow CI's Instagram page, indicate their preferred city by liking one of 18 city-themed countdown images, and tag a deserving friend.
The recipients of the 2017 Q4 scholarship will be drawn on Monday 18th December 2017. Visit the CI blog for more details.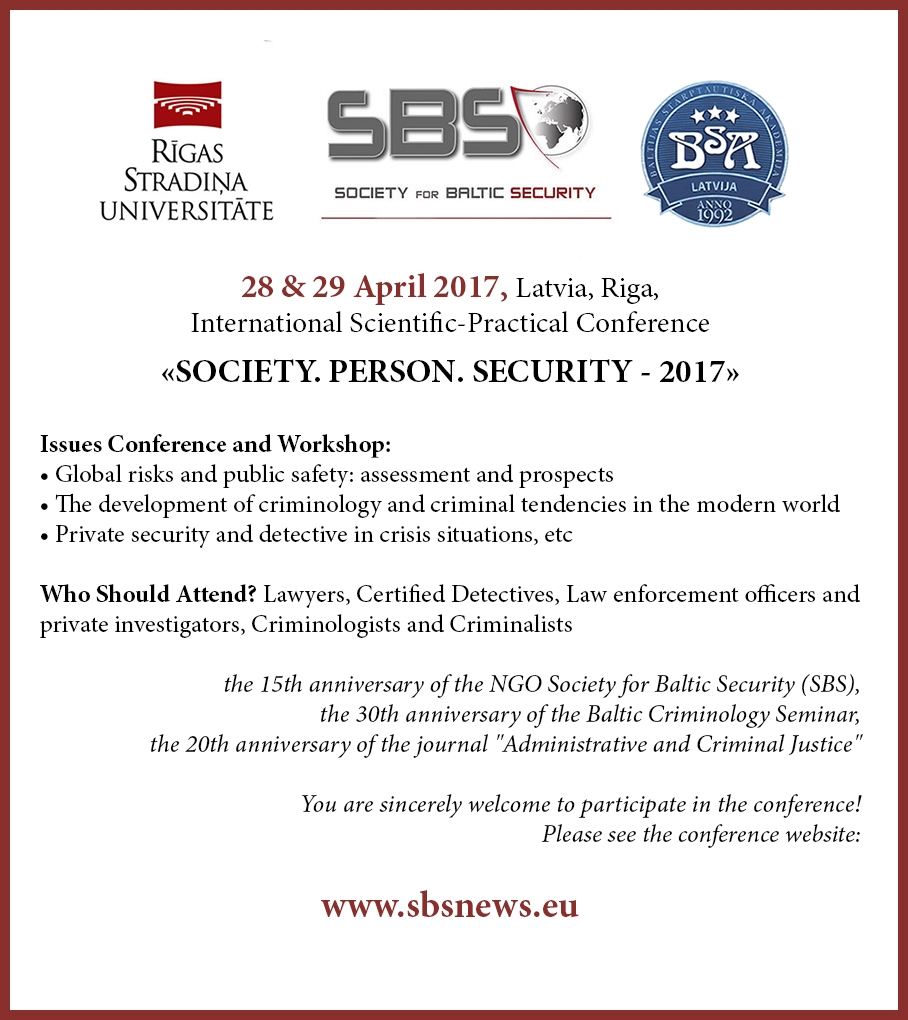 ---

8 December 2017 Baltic International Academy Daugavpils University Stradina Riga University Siedlce University of Natural Sciences and Humanities are organizing VI International Scientific Conference Transformational Processes in Law, Regional Economics and Economic Policies: Topical Economic, Political and Legal Issues


---

On the 26st of April 2018 in Latvia, Riga the Baltic International Academy and the Baltic Law Journal invite you to take part in a series of annual international and practical conferences Science. Law. Stability.
The modern trends of modernization of private law.



Archive





2016





2015





2014





2013